Even small girls have a great sense of fashion nowadays. Thanks to the growing society, fashion and trends. They know how to make sure they look good for any occasion, be it a school or family function, wedding or birthday parties. Girls like to stand out from others.
Apart from their love for clothes and shoes, the thing they care about the most is their hair and hairstyles. A nice hairstyle enhances the looks and compliments the dress and makeup if done. Many little girls love to grow long hairs so that they can have cool and pretty hairstyles for various occasions. Here are such simple and beautiful hairstyles that you can make for your baby girls using some cute hair accessories adding additional charm to it.
1. Double Ponytail Style: This hairstyle would mostly look good in girls will thin and small hairs. You need to just comb the hair properly, part hair into two, make two ponytails and roll them back. Now cover the rolled tails with cute rubber bands.
2. Diagonal Braid Style: This will suit girls with long wavy hairs. Pick little strands from the top and tie it into a braid diagonally. Add a cute clip at the end of the braid. You can also tie the leftover hair and add small beaded pins between the spaces in the braid.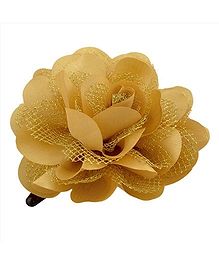 3. Half Braid Style: This is quite similar to the diagonal braid but it is more fitting for straight small hair and the braid is made straight from one side to the other. Fix a bow or clip to make it look more attractive.
4. Princess Style: Princess looks are one of the most favorite looks for baby girls. Wearing pretty princess gowns, tiara and fancy accessories are what many girls like. Make this beautiful hairstyle fixing a tiara at the top for any occasion like fancy dress competition where the girl is playing a princess or a fairy or she is a flower girl in a wedding this look is perfect.
5. Simple Bob Pinned Style: This style is easy to go and can be made for any casual occasion. Simply part the hairs and put simple bob pins, fancy floral pins or tic tac clips. This is mostly helpful for small hairs where bangs fall in the eyes.